500W 750W 1000W small bench Fiber Laser CNC Cutting Machine
Machine Features
fiber laser cutting machine is with beautiful looking, compact structure, small stand space; under two helical gear drive, shaft bevel
gear, high speed and precision; the device consists of a main machine,cutting table, control cabinet, fiber laser, laser cutting, CNC
system, cooler, air system,conditioner, power supply and exhaust system components.
1, Independent R & D, manufacturing cutting table, special processing technology, high precision, stable and reliable, long service life
2, The main body of the steel plate welding, transmission structure, on the axis of aluminum cast beams, lightweight, fast response,
good dynamic performance
3, Under the dual drive shaft precision helical structure on shaft bevel geartrans mission, stable and reliable motion
4, The international first-class quality fiber laser, long history of industrial applications, maintenance easily, stable and reliable
5, With high response and high precision servo motor
6, High precision laser cutting head, imported optical lens, focusing on fine, convenient adjustment and perfect cutting
7, The high response of double loop control high capacitance, low
sensitive
on the plate, the cutting quality is stable and reliable
8, The CNC system operation is simple and easy to learn, low require ments for operators
9, Cutting graphics input formats, powerful graphics rendering and editing function
10, Special cutting software, cutting technology experts, data storage call function
11, Proportional valve control gas flow, airflow stability, cutting surface quality
12, Automatic lubrication system, machine running more smoothly, long life
13, The process of smoke dust experts, like boat exhaust gas system design, the effect is better
NO.1 Characteristics of our laser cutting machine
1. Application of gantry structure and integrated cast cross-girder to achieve
higher rigidity, stability, shock resistance.
2.
High-performance laser source and stable operating system
which make the best cutting effect.
3. The machine owns perfect cooling system, lubrication system and dust removal system, to ensure that
it can operate stably, efficiently and durably.
4. The machine is capable of automatic height adjustment to
maintain constant focal length and stable cutting quality.
5. The machine is used for
cutting a variety of metals
with excellent and stable cutting quality.
6. The specialized CAD / CAM automatic programming software and automatic nesting software aim to maximally save raw materials.
7. Access to the CNC system through Ethernet interface makes communication and
remote monitoring possible during the laser cutting process.
NO.2 Machine Application Field
1.Application Materials: Fiber Laser Cutting Equipment is suitable for metal cutting with Stainless Steel Sheet, Mild Steel Plate, Carbon Steel Sheet, Alloy
Steel Plate, Spring Steel Sheet, Iron Plate, Galvanized Iron, Galvanized Sheet, Aluminum Plate, Copper Sheet, Brass Sheet, Bronze Plate, Gold Plate,
Silver Plate, Titanium Plate, Metal Sheet, Metal Plate, Tubes and Pipes, etc
2.Application Industries: BODOR Fiber Laser Cutting Machines are widely used in manufacturing Billboard, Advertising, Signs, Signage, Metal Letters,
LED Letters, Kitchen Ware, Advertising Letters, Sheet Metal Processing, Metals Components and Parts, Ironware, Chassis, Racks & Cabinets Processing,
Metal Crafts, Metal Art Ware, Elevator Panel Cutting, Hardware, Auto Parts, Glasses Frame, Electronic Parts, Nameplates, etc.
NO.3 Working Principles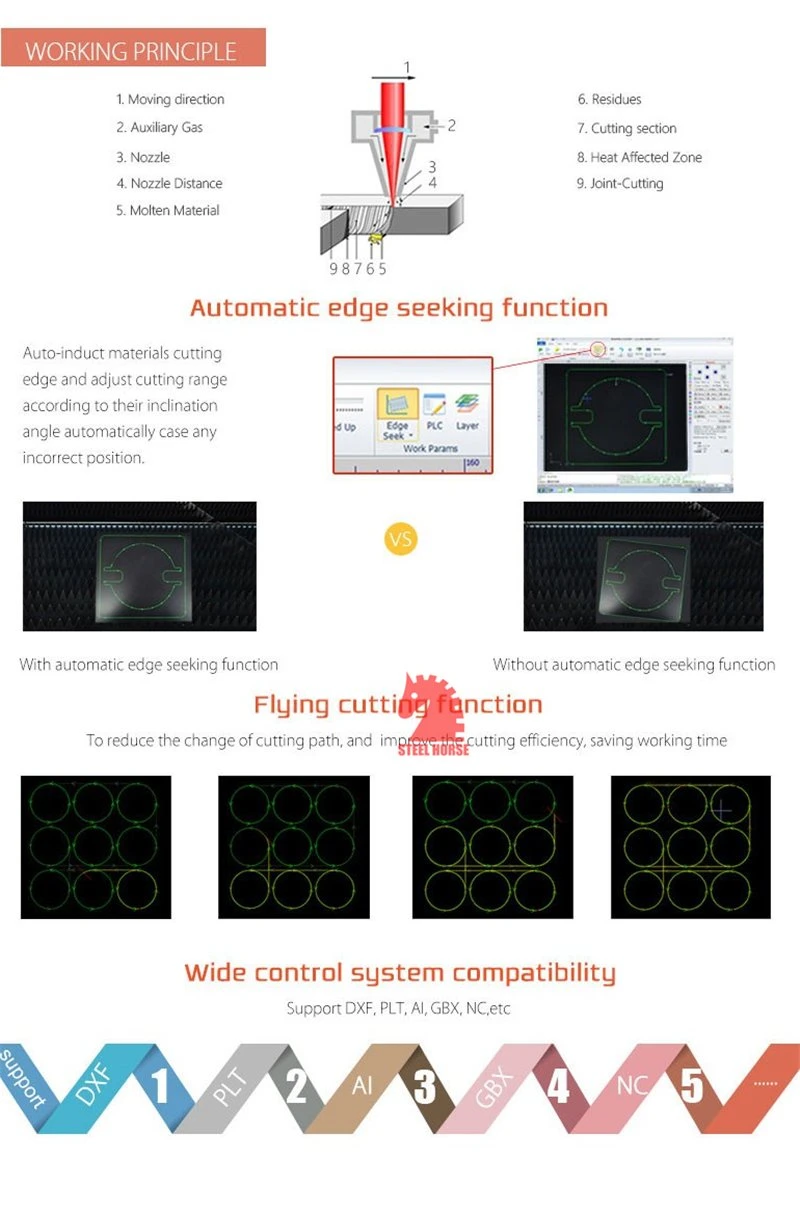 TECHNICAL PARAMETER
| | | | |
| --- | --- | --- | --- |
| No. | Item | Unit | Parameter |
| 1 | Track span | mm | 3000~9000 (Less than 4000 using single driver) |
| 2 | Track length | mm | According to customers' requirement |
| 3 | Transverse effective cutting | mm | 800 shorter than track length |
| 4 | Longitudinal effective cutting | mm | 3000 shorter than track span |
| 5 | Longitudinal rails | m | 2m per rail. It may be increased or reduced in accordance with users' requirement |
| 6 | Number of torches | | According to customers' requirement |
| 7 | Cutting speed | mm/min | 0~6000 |
| 8 | Traveling speed | mm/min | 0~12000 |
| 9 | Torch lifting range | mm | 200-300 |
| 10 | Plasma cutting thickness | mm | Depending on plasma power supply |
| 11 | Flame cutting thickness | mm | 6~300 |
Type
SH3015

Max Cuttinq Size(mm)

3000x1500

Max Height of The Workpiece(mm)

90

Effective Travel

X Axis (mm)

3050

Y Axis (mm)

1550

Z Axis (mm)

100

Positional Accuracy

X Axis (mm)

±0.04

Y Axis (mm)

±0.04

Z Axis (mm)

±0.01

Repeated Positioning Accuracy

X Axis (mm)

±0.03

Y Axis (mm)

±0.03

Z Axis (mm)

±0.005

Rapid Positioning Speed

X Axis (m/min)

80

Y Axis(m/min)

80

Z Axis(m/min)

30

Accelerated Sppeed(G)

1

The Laser Power(W)

500/700/1000/1500/2000/3000

The Power Consumption of The Machine Tool (Kwh)

4.85

Level of Protection

IP54

Total Weight(T)

4.35

Boundary Dimension LxWxH(mm)

4191x2520x1326