8% OFF Aluminium Fiber Laser Cutting Machine Industrial Laser Equipment for Galvanized Steel Plate Sheet Metal Price
Lisa Huang/Overseas Director
China Top Hot-selling 2020 New Design Automatic Loading Metal Sheet Laser Cutting Model.This fiber laser cutting machines is designed for high precision sheet metal processing. It provides efficient cutting at optimal speed using a fiber laser. The integration of leading-brand components assures you of top performance and high reliability.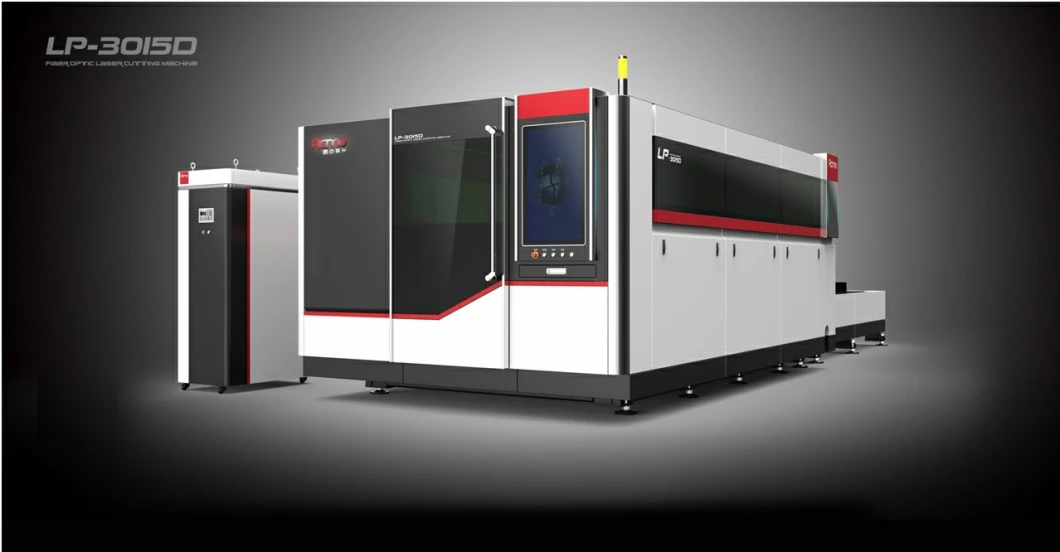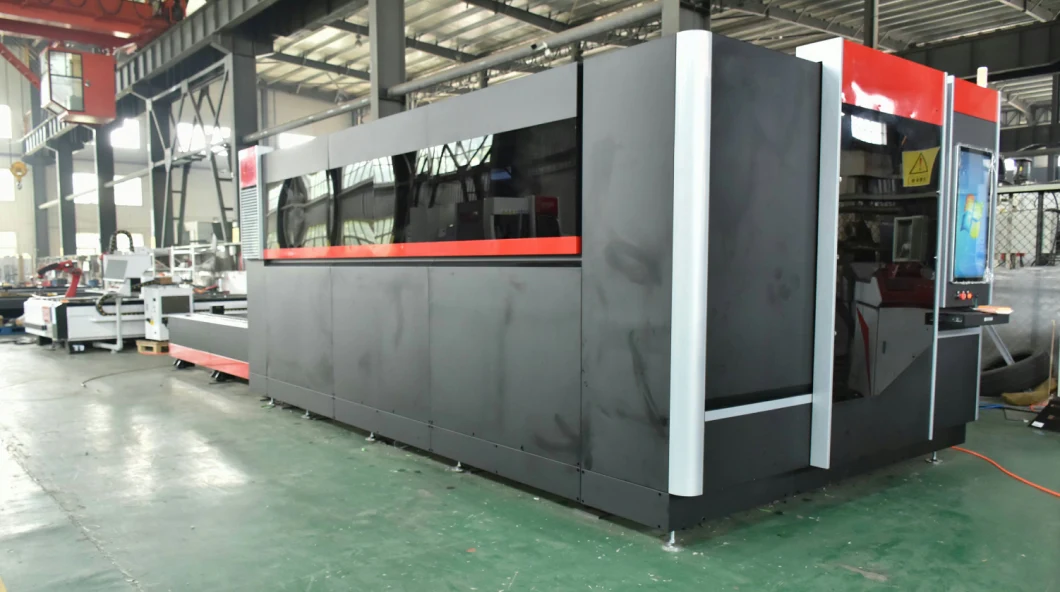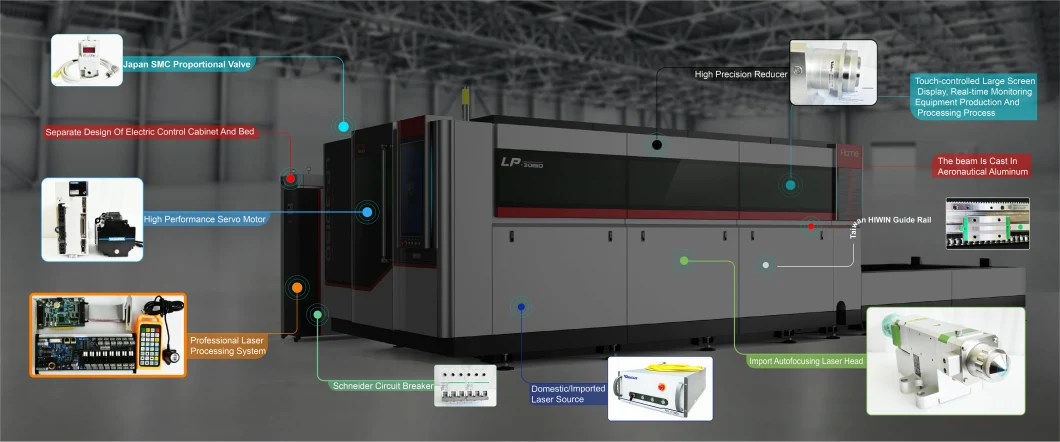 1.Sheet Metal fiber laser cutting machine for metal sheet with double exchange worktable.
2.Metal Sheet fiber laser cutting machine with full enclosed protection cover.
3.High Power fiber laser cutting machine for steel sheet.
4.1kw/1.5kw/2kw/3kw/4kw/6kw/8kw/10kw/12kw/15kw.
5.All our machines are in line with TUV certification,CE,certification,SGS,certification,ISO9001 Quality System.
6.Carbon steel sheet, mild steel,stainless steel, aluminium sheet, copper sheet, galvanized steel sheet are available.
7.Hot selling china top manufacturer of laser cutting equipment with cheap china factory price.
8.Fiber laser cutter especially suitable for fitness equipment industry, elevator industry, metal processing industry, steel structure industry, steel wood furniture industry, shelf manufacturing industry, automobile manufacturing industry, scaffolding industry, agricultural machinery manufacturing industry, etc.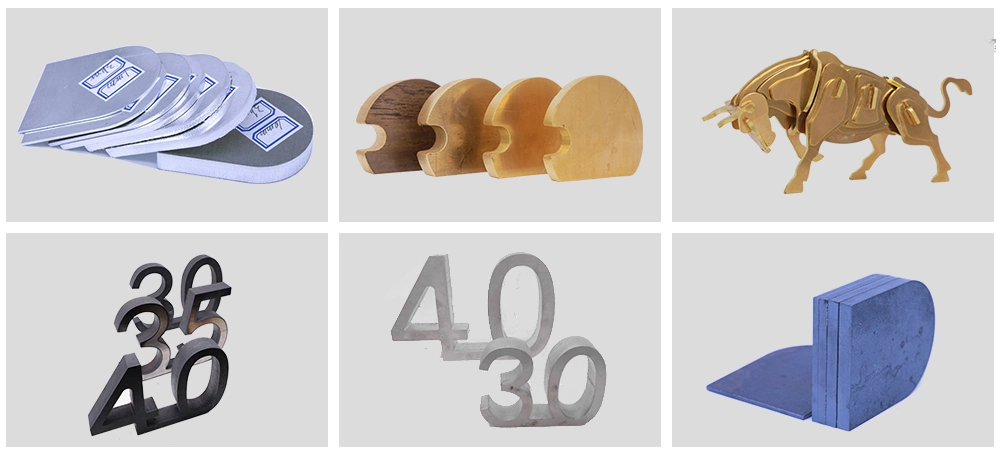 Product Features

1,Gantry double drive structure, smooth and reliable movement.
2,Thickened heavy machine bed and worktable, no deformation for 20 years, greatly extending the service life of the machine.
3,Precision gear rack drive, with high response and high precision servo motor.
4,The international first-class quality of fiber laser, industrial application for many years, long service life, maintenance free, stable and reliable.
5,High precision laser cutting head, imported optical lenses, is focused on the fine, the adjustment is convenient, cutting perfect.
6,A double closed-loop control capacitive height controller, low requirement to the steel sheet, cutting quality is stable and reliable.
7,CNC system is concise and easy operation, low requirements for the operator.
8,Cutting graphic input multiple formats, powerful draw and edit graphics function.
9,China top professional laser cutting software, cutting technology experts, data call functions.


Advantages
Using Germany IPG laser source, the electro-optical conversion efficiency is high, which can save power consumption during work and save operating cost.

The design of the dual platform, when one workbench is cutting, the other workbench can simultaneously work on the loading and unloading to improve work efficiency.

The focal length of the cutting head can be self-adjusted following the surface height of the material, even if the surface of the material is not flat, the cutting quality can be guaranteed.

Equipped with a handheld controller, you can manually control the cutting position

With precision ball screw, rack and pinion, linear guide transmission operation, thus achieving high precision, high efficiency and stability of the machine tool.

The switch of the solenoid valve and the proportional valve is controlled by the system. The input value in the numerical control system can control the size of the proportional valve outlet, without manual adjustment.

High-strength integrated welding fuselage and aerospace-grade aluminum alloy beams are subjected to high-temperature annealing to ensure long-term use without deformation.

Applications

1. Application Industries: Widely used in manufacturing Billboard, Advertising, Signs, Signage, Metal Letters, LED Letters, Kitchen Ware, Advertising Letters, Sheet Metal Processing, Metals Components and Parts, Ironware, Racks & Cabinets Processing, Metal Crafts, Metal Art Ware, Elevator Panel Cutting, Hardware, Auto Parts, Glasses Frame, Electronic Parts, Nameplates, etc.

2. Application Materials: Suitable for metal cutting with Stainless Steel Sheet, Steel Plate, Carbon Steel Sheet, Alloy Steel Plate, Iron Plate, Galvanized Sheet, Aluminum Plate, Copper Sheet, Brass Sheet, Bronze Plate, Gold Plate, Silver Plate, Metal Sheet,Metal Plate, Tubes and Pipes, etc.



Key Configuration & Technical Parameters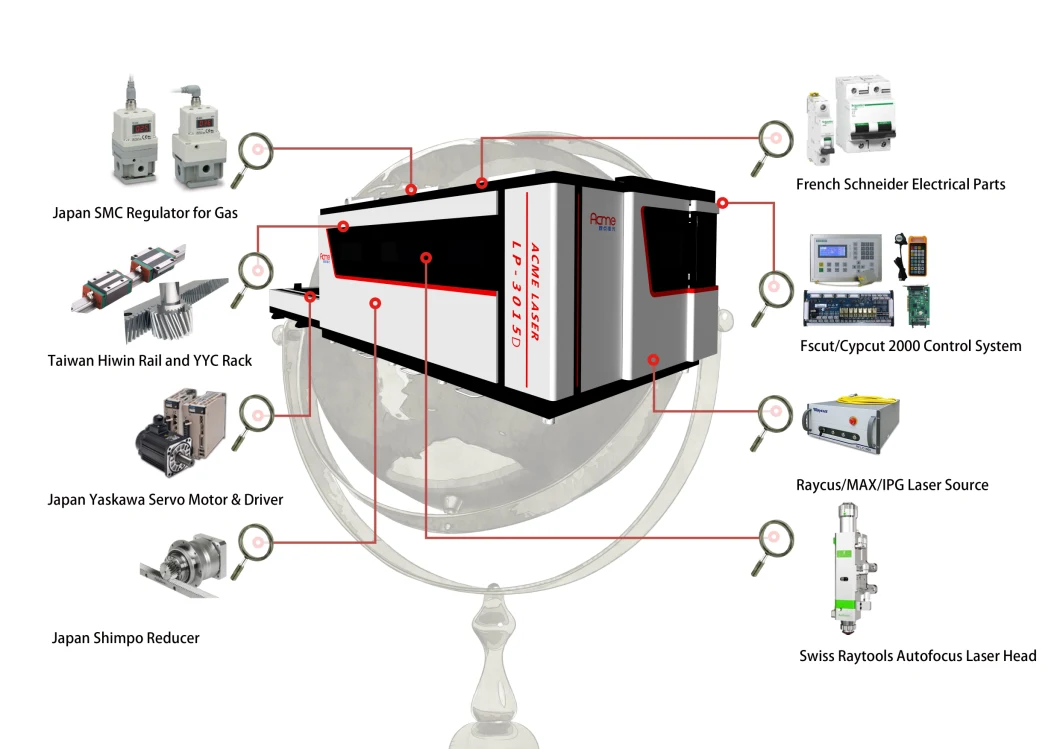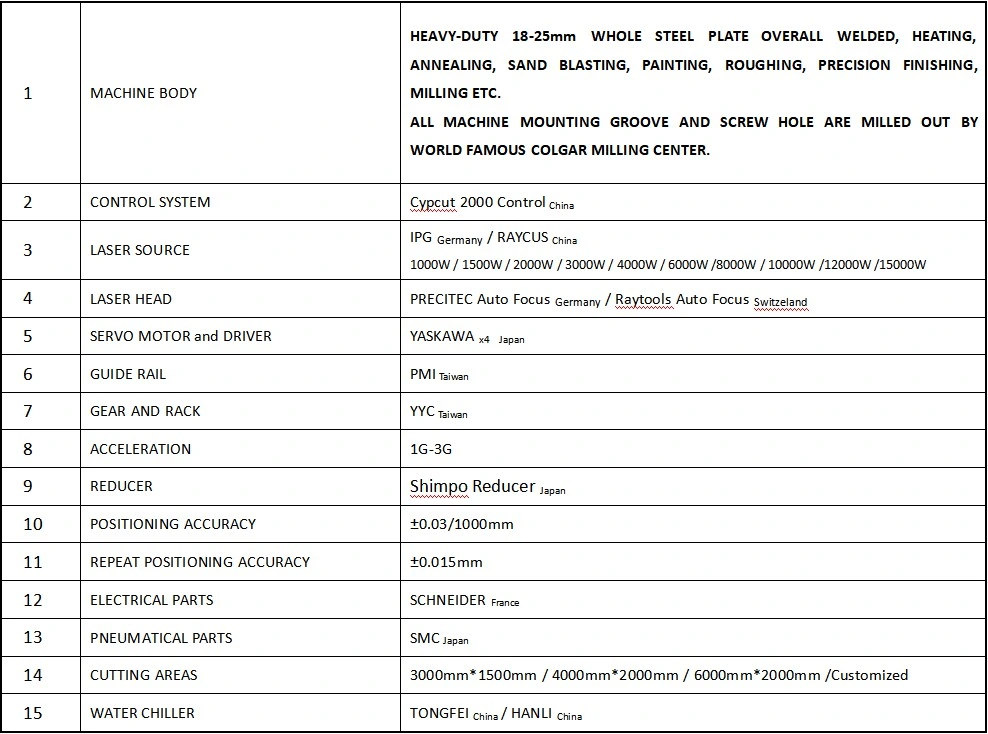 Machine main configuration
| | |
| --- | --- |
| Fiber Laser source | IPG/RAYCUS/MAXPHOTONICS/NLIGHT |
| Cutting Head | PRECITEC/RayTools Auto Focusing |
| CNC Cutting System | FSCUT CYPCUT |
| Nesting Software | CypNest |
| Water Chiller | Hanli/Tongfei/S&A |
| Servo Motor | YASKAWA sigma-7 series servo motor and driver |
| Reducer | Shimpo/MOTOVARIO reducer |
| Electric parts | Schneider |
| Pneumatic parts | SMC |
| Proportional Valve | SMC |
| Lubrication system | Automatic self lubrication system |
| Dust removal system | Dust Filtration and Removal system |
| Machine operate | Remote handheld controller and big touch screen |
Machine Technical Parameters
| | |
| --- | --- |
| Machine cutting size | 3000x1500mm/4000x2000mm/6000x2000mm and other size |
| Cutting table | Two changeable cutting table |
| Maximum move speed | 120m/min |
| Positioning accuracy | ±0.03/1000mm |
| Repeat positioning accuracy | ±0.02/1000mm |
| Power supply | 380V/60 Hz (can make machine depend on your Voltage) |
| Machine size | 8752x2870x2350mm (3000x1500mm cutting area) |


MAIN PARTS SHOW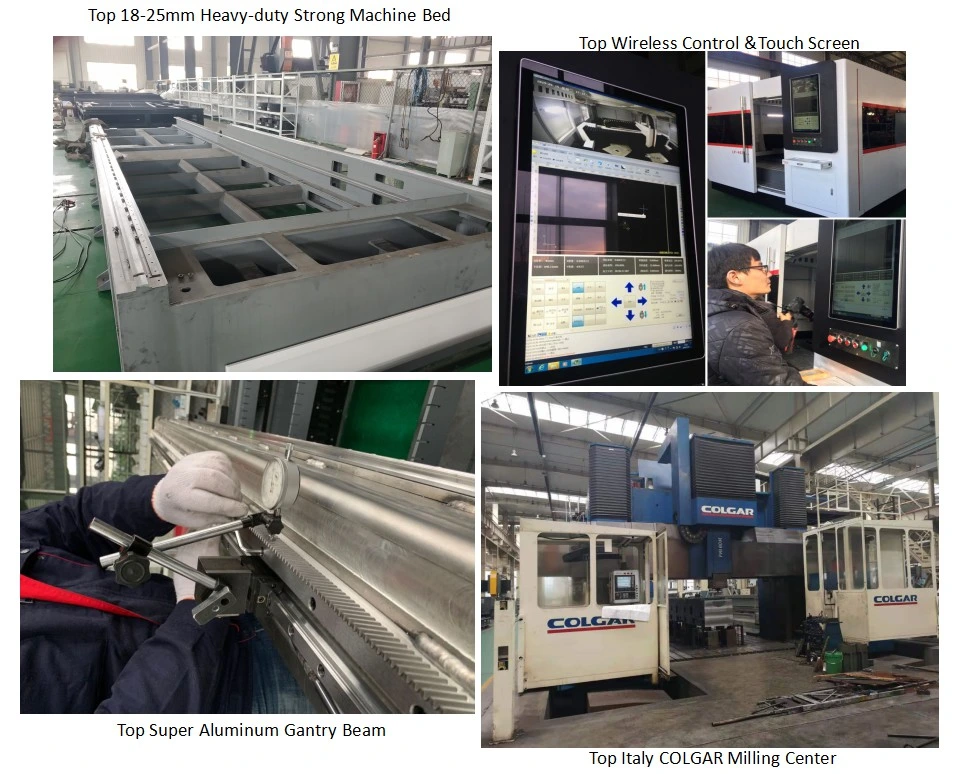 Main machine parts
| | | |
| --- | --- | --- |
| No | Item | Brand |
| 1 | Laser source | IPG(Germany) |
| 2 | Laser cutting head | RAYTOOL AUTO FOCUS(SWIZERLAND) |
| 3 | Gear&rack | YYC(Taiwan ) |
| 4 | Liner guider | HIWIN (Taiwan) |
| 5 | CNC system | Cypcut (China) OR Beckoff(USA) |
| 6 | servo motor & driver | YASKAWA(Japan) |
| 7 | planetary gear reducer | SHIMPO(Japan) |
| 8 | Gas control | SMC (Germany) |
| 9 | Electric | Schneider |
Key Points
| | |
| --- | --- |
| Machine Model | LP3015D LP4020D LP6025D |
| Laser source | Fiber Laser |
| Laser power | 1000W-150000w |
| Cutting size | 3000mmX1500mm/4015/4020/6015/6020 |
| Z axle stroke | 100 mm |
| Max positioning speed | 180m/min |
| Max height of feeding material | more than 120mm |
| Cooling way | water cooling |
| Laser wavelength | 1070nm |
| Min. cutting gap | ≤0.1mm |
| Positioning accuracy of X, Y and Z axles | ±0.03 mm |
| Repeated positioning accuracy of X, Y and Z axles | ±0.01 mm |
| Working temperature | 5ºC-45ºC |
| Power requirement | 380V,50/60Hz(customized for you) |
| Continuous working time | 24 Hours |
| Machine weight in total | 15 tons |


CERTIFICATION & PATENTS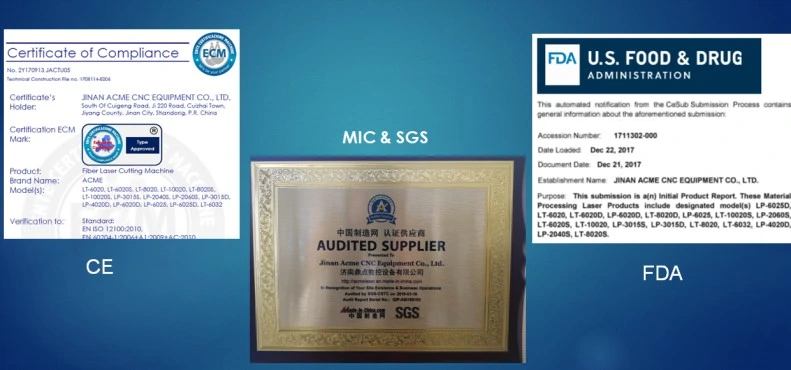 ABOUT OUR FACTORY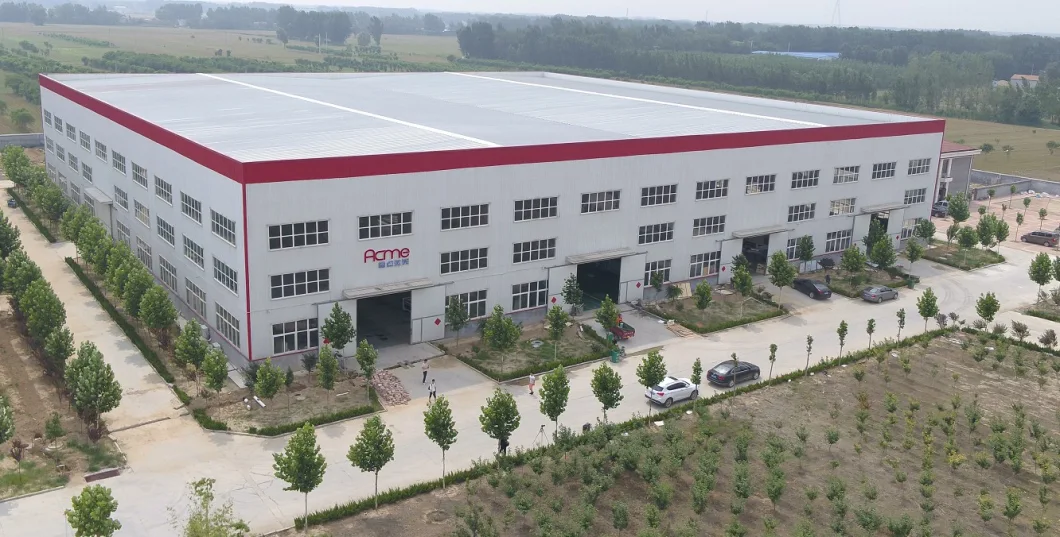 North China Largest Fiber Laser Machine Manufacturer,With industry-leading technology and continuous R&D capability, China Acme Laser provide customers with the top quality machine and higher cost-effective laser equipment.

Our main products : 1.CNC laser cutting machine 2.CNC laser welding machine 3.CNC laser cutting&turret punch combined machine 4.CNC laser cleaning machine 5.CNC laser marking machine 6.CNC laser engraving machine
With the confidence given from 15 years of experience in machine manufacturing sector, we have exported the machines to all around the world with a perfect understanding of customer satisfaction and giving a continuous contribution to the national economy.

So far, our machines have sold to 50 countries all over the world like USA,UK,Mexico, Netherlands, Italy,Germany,Iran,Australia,Hungary,Russia,Poland,Vietnam,India etc,which have won the recognition of the market with very stable and good performance. All our machines are in line wih European CE certification , USA FDA certification and SGS certification.


ABOUT AFTER-SALES SERVICE


MAIN AFTER-SALES SERVICE :
OEM&ODM services.
2 or 3 years guarantee time.
24h Life-long free technical support.
Consumable parts continuous supply.
English Speaking Engineers available to overseas services.
Free Training on machine installation, commissioning, operation, maintenance, etc.



Installation and debugging
Technicians can be sent to the factory for training (free of service fee for the first time). Customers only need to provide accommodation for engineers.

Training
Free of charge for training within warranty. But customers need to take charge of the cost for accommodation, air tickets, visa fee.

24H online service
All our laser equipment is provided with 24 months warranty. We Acme Laser offers free maintenance or replacement service if something is wrong with the equipment under warranty. If it is out of warranty,We Acme Laser will send engineers to your factory as soon as possible and only charge the cost of parts.

Accessories supply
Prolong serve is always available for option. Free of charge for fixing and changing parts within warranty.

Remote diagnosis
We Acme Laser can check the running status of the customer's laser cutter through our remote maintenance system. Our technicians can perform troubleshooting via remote access instead of on-site diagnosis and maintenance, saving you a lot of time.

Additionally, We Acme Laser will establish a special user profile for all customers who have purchased equipment from us to record your usage, maintenance records and other information. This will help us to learn about customer information more quickly and thus provide necessary upgrades according to customer feedback.


CUSTOMERS SHOW

Why Choose Fiber Laser?

More companies than ever before are investing in fiber lasers. While the automotive industry was undoubtedly the early adopter, this relatively new solution is being snapped up across the board and when you consider the advantages, it's easy to see why.

EXTRA SPEED
The sheer speed of fiber laser markers makes them the first choice for customers looking to increase efficiency. They're the fastest laser marking technology at their wavelength, delivering marking times of less than one second for some applications. While older, more established laser technology is available-including diode-pumped solid-state (DPSS) lasers, lamp-pumped lasers, and carbon dioxide (CO2) lasers-none can beat a fiber laser for combined mark speed and quality.
This means fiber lasers can break new ground. For example, one of Laser Lines' customers is an automotive component manufacturer that needs to mark serial codes exceptionally fast-in under half a second-which wouldn't be possible with any other type of laser.
ENERGY EFFECIENCY
Despite being faster, fiber lasers are energy-efficient compared to the alternatives. Not only does this result in reduced power consumption, but it also helps make the system simpler, smaller, and more reliable.
Fiber laser technology uses basic air cooling rather than an additional chiller unit, which would be costly and cumbersome. With many businesses finding both cash and floor space in short supply, compact and efficient fiber laser marking solutions are proving to be the right fit.
LONG LIFE
The life expectancy of a fiber laser far exceeds that of other laser solutions. In fact, the diode module in a fiber laser typically last three times longer than other technologies. Most lasers have a life of around 30,000 hours, which typically equates to about 15 years' use.
FAQ
Why should We choose ACME Laser ?
We have been laser manufacturer for 15 years.

We offer maintenance-free and technology support.

Most of our products have TUV,ISO,CE,SGS,FDA certifications.

Our products have longer quality warranty.

We have own research room ,workshop and design team.

ACME LASER has been exporting to more than 50 countries around the world.
This is first time buying this machine,how to use it?
We have free training for 7 days.It is easy to learn.

The best way is that we offer prefessional engineer to taech you face to face.

If you couldn't come to our company, we will give you menu and video, our engineer teach you online.
How to maintain the machine?
The environment needs be clear.

The temperture can not be high.

Our guide needs lubricating oil for 2-3 drops about.
If I have some problems ,what should I do ?
You can contact our salesman directly ,our engineer will check the problem.

During the warranty, maintainance is free.

Although over the warranty,we also offer life-long technology support in free.